Cheap Anti-corrosion Insulating Laminated MgO Roof Sheets
"Iron Crown " MgO Anti-corosion Insulating Roofing Sheets

"Iron crown" High strength Fireproof anti-corrosion Insulating MgO roofing Tiles is a kind of energy-saving and environmental protect roofing material. It is made of several kinds of inorganic chemical materials, after production line processing and combined.
It was made of a MgO, MgCl2, talcum powder, fiber glass cloth, and other fireproof materials.
100%Non-asbestos; 100% Non-Formaldehude; 100% Harmless
Product Features
100% Non-asbestos;
High Strength;
Fire-Proof (A1);
Heat-Insulation;
Sound Insulation;
Anti-Corrosion; Acid & Alkali Resistant;
Anti-Aging; Long Service Life;
Anti-typhoon Shock Resistant;
Good Processability
The MGO roofing sheets could be processed by saw, nails, drilling, Installed simple and quickly,
save material cost and labor cost.
Specification
Length

1.0m-5.8m

Width

1800mm;2000mm;2400mm;3000mm;5800mm;

Thickness

4mm;5mm;

The MgO Roofing Sheet could be made indifferent size according to your requirement.




According to different market demand, there are three series of MgO roofing sheets;

Performance Demonstrate



Environmental friendly

100% non-asbestos; 100% Non-formaldehyde; harmless to environment and healthy;

Fireproof

The MgO Roofing sheets is made of various inorganic materials, after inspect by the national authorized organization, Its fire-retardant reached grade A1. Its refractoriness temperature over 1200 degree. This refractoriness temperature far more than the other roofing materials, such as cement sheets, iron sheets, PVC sheets, etc., So it is a kind of safe and good fire-proof roofing material.



Heat Insulating

The mainly raw material of our roofing sheets is MgO, MgO is a kind of natural insulation material, after inspect by the national authorized organization, the thermal conductivity factor of our roofing sheets is 0.169w/m.k,this factor far less than other roofing material, so our MgO roofing sheets is a good choice of energy-saving and cost-reducing roofing material.



Acid & Alkali resistant


When the PH value is between 2 and 12, the sheets will not be affected. The sheets could offering superb resistance to the acid & alkali which from the air and raining or other factors.

Due to its amazing acid and alkali resistance, corrosion resistance, it is the main reason why its service life much longer than other kinds of roofing material, such as cement sheets, iron sheets, PVC sheets.



Sound Insulating

When raining out-side, no big noise inside room, so people could work and live normally.



High Strength


The MgO roofing sheets is very strong and shock-resistant,




Horizontal Breakage:>3100N/M




Vertical Breakage:>305 N/M




Shock Resistant: Do not craze, peel off, penetrate on the surface after1kgiron ball fall on it from 1.5 mheight.




watertightness


After soaking in the water, there are no water spot on the back side.



Anti-typhoon

Because our mgO roofing Sheet with high strength, high density, good toughness and high screw holding capacity, so our MgO roofing sheets could resist typhone, so it is very popular in Typhoon-prone area.

Service life

The laboratoey testing shows that the service life of MgO roofing sheet> 30 years, after repeated freezing and thawing test, the sheets no bubbling, stripping, crack;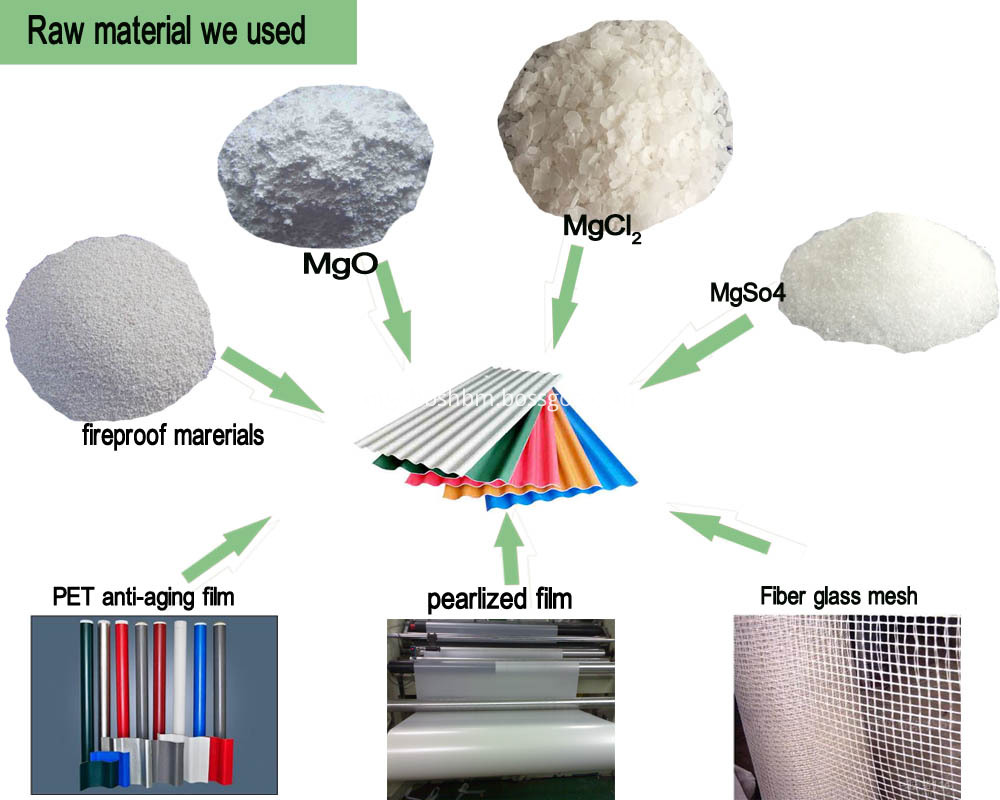 Application
Due to its excellent performance of corrosion-resistant, acid& alkali resistant, weather resistant, energy-saving, environmental-friendly ,etc, prolong the service life of the buildings, reduce the cost of labor and the replacement of the installation, make the integrated cost of application much lower. It is the best substitute of asbestos sheets, steel sheets, cement sheets and thatched roof.
The high performance characteristics make the MGO roofing sheets suitable for being used in the roof application of high temperature, high corrosion industry, such as chemical plant, feeding farms, casting factory, work shop, warehouse, market shed, garage, roofing of residence, etc.

Projects Demonstrate
Due to the High temperature, high corrosion in the Galvanizedprocessing factory so the Aluminium Foil MgO roofing
Sheet is the best choice because its excellent performance ofanti-corrosion and Acid & Alkaliresistant, heat resistant.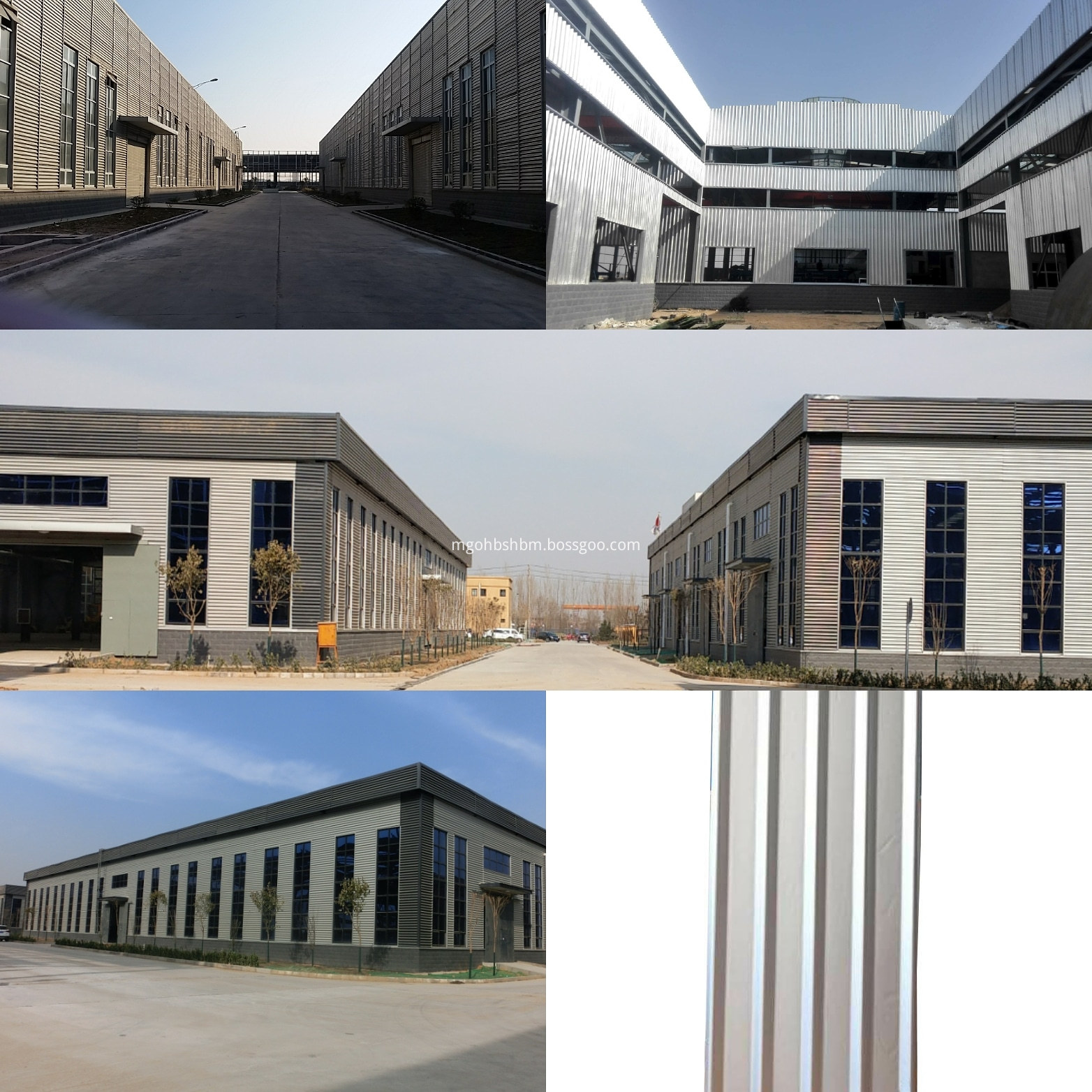 Because the cattle`s excrement and breath exhaled with strong corrosion, so they choose the PET membrane MgO Sheet as the wall panel and roofing material. because its excellent performance of anti-corrosion and Acid & Alkali resistant, heat resistant.
The cattle could live in the farm comfortably, produce more milk and Create more economic benefits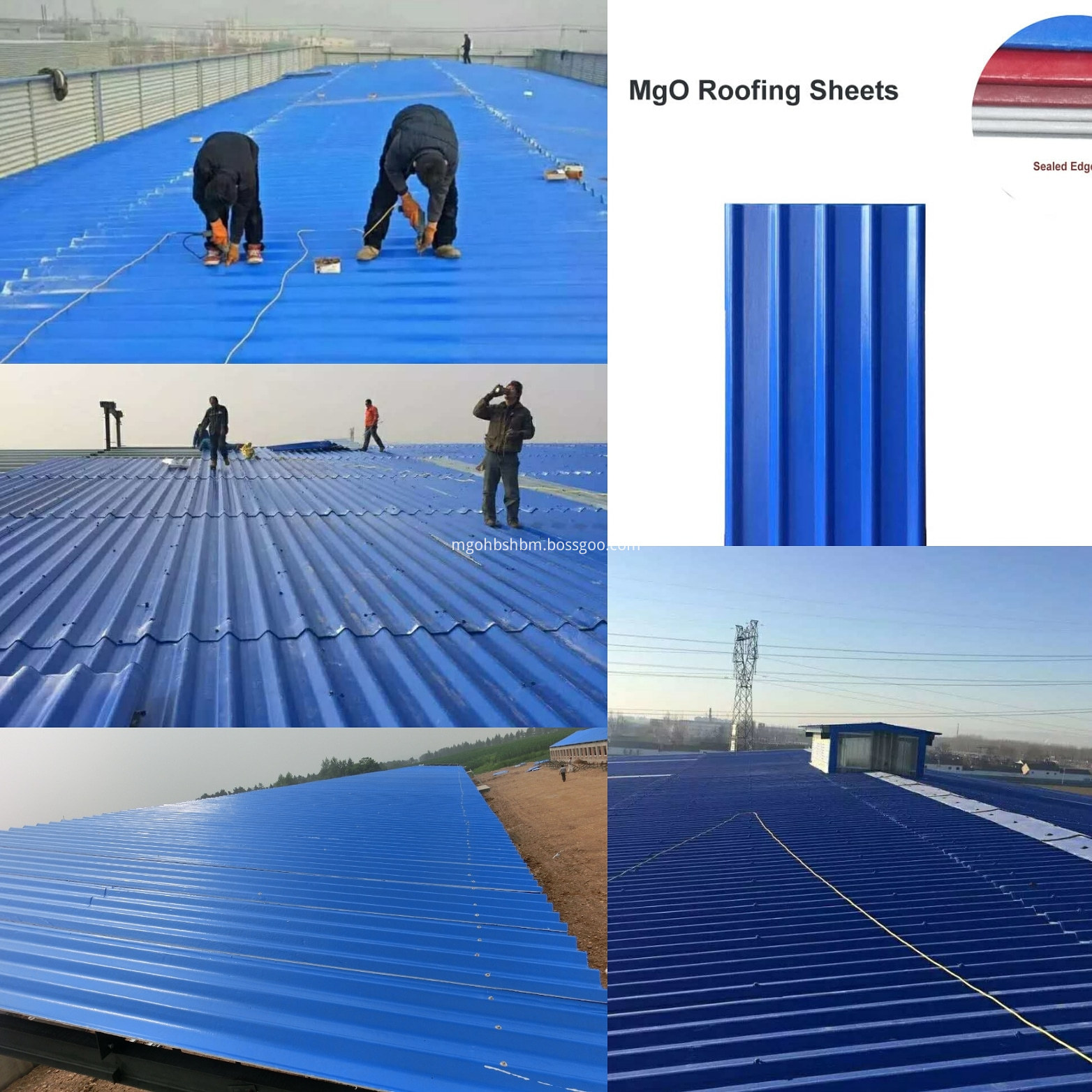 Projects of MgO Glazed roof sheet

Residential House

Garage projects